Know by heart the golden tips to help Sunners conquer PMP certification
If you are a Project Manager or are aiming to become a Project Manager, this article is for you! Below is the experience of Sunner P.Q.Dinh - Group Leader at Sun* and also the first person in the Company to achieve this PMP certification!
First of all, what is PMP?
PMP (Project Management Professional) is an advanced project management certificate issued by the American Project Management Institute (PMI) since 1984. It is an international certificate that recognizes a person with knowledge and skills to lead and manage groups to implement projects, deliver results to meet the binding requirements of the project. The PMP standard requires PMs to have expert qualifications in most relevant knowledge areas and be able to manage large projects such as projects with budgets of a million USD or more or project teams of more than 200 people working in many different countries.
It can be said that PMP has been the most prestigious and advanced certificate in project management so far. It requires test takers to really have practical project management experience and extensive knowledge. Previously, in order to take this certification test, candidates had to fly into Ho Chi Minh City to take the test. Now it's easier when you can take the test in the Center in Hanoi or take the test yourself online at home (with very strict security).
How does PMP "make it difficult" for us?
If you have ever practiced PMP as well as entered the certification test, you will feel many "challenges" from PMP that make us sweat. Some of the narrative challenges when aiming for the PMP test can be mentioned as:
The amount of knowledge is extremely massive
Requires real project management experience
The fee costs an arm and a leg (about 13,000,000 VND)
There are no questions of the previous tests; simulator test questions are for reference only
Not knowing how to PASS, getting 75% or above is likely to pass.
Golden tips to "Zero to Hero" with PMP certification
Steps you need to go through in order to take the test
Register for PMI membership at the website: https://www.pmi.org/
Prepare Exam documents to submit on PMI's website
The number of years of experience in project management (about 3 years)
- The number of hours working as project manager is about 4,500 hours (description of projects will be required on the registration page)
- Go through a 36-hour training course certified by PMI (online courses or courses in learning centers)
#HERE_ARE_THE_TIPS
- As long as you have experience as a Leader for about 3 years or more, you can pass the submission round. However, of course, you still need to invest your own carefulness in the profile!
- With the 36H course, if you have good finance, you should study at the Center to pass the 36-hour condition. There are a lot of documents, test tips, test questions. All you need to do to pass the test is work hard. (I have no experience in preparing for the test by studying in the center so I can not give you any advice, but the most prestigious center seems to be Atoha)
- If the financial ability does not allow it, one of the most economical ways is to join a Udemy online course, with the price of only about $12 with a promotion to complete the course. This course is also eligible for pass PMI's 36H training (but not 100% sure), and I followed this way too.
Reference course at Udemy: https://www.udemy.com/course/pmp-pmbok6-35-pdus/
- Click HERE to register and follow the instructions.
- After the submit has been completed, you will wait for the result of passing or failure in about 1 week
#HERE_ARE_THE_TIPS
Describe 3-5 projects clearly and succinctly, and describe your role in those projects if you don't want yourself on the PMI audit list. Of course, I think it will be very troublesome for you, so this step should be done with certainty. Do not rush.
Pay the test fee and schedule the test
When you pass the application round, you are eligible to take the test within 1 year since the pass date of the submission round. You are required to pay the test fee first before you can schedule the test before choosing your test location and planning for drastic review.
#HERE_ARE_THE_TIPS
- If you register for 1 year PMI membership, the total test fee is 5$ cheaper (the privilege of the membership). Besides, you have the right to download PMI's documents for free and countless templates to support your work, too
- The re-scheduling 1 month before the test is free, so do not hesitate to pay for your fee and schedule to create a great motivation for review. My learning experience here is that when the money is paid, more blood will go to the brain hence you will study very well!
- Re-schedule within a month before the test will charge you $70
- Re-schedule within 48H before the test will make you lose all your money
Review and Sit for the Exam
After registering for the exam, you should schedule study, review knowledge, and take simulation exams seriously. This process will take you from 3 to 5 months depending on how much time you spend each day studying for exams.
Trust me, practice makes perfect. Be Professional and Stay Focused with PMP certificate review!
#HERE_ARE_THE_TIPS
Speaking from my experience, in order to increase the chances of passing in the first attempt, Sunners should:
- Have a detailed plan for exam review with milestones of completing reviewing knowledge for the first time, taking practice tests (1 or 2 tests), reviewing knowledge for the second time, doing exercises of each knowledge area to fill in the gaps. Finally, do at least 3 practice tests of 3 different sources with the result of about >= 75%/100%
- Study in groups to increase motivation and fill in the knowledge gaps because PMP knowledge is quite wide and difficult to understand.
- There should be someone with experience to lead group study and set goals for the group so everyone can strive together.
- Share exam plans with your family, colleagues so that everyone understands and facilitates you in exam preparation, especially your spouse because if you fail, the amount of money you lose is quite big!
- 1 month before the test date: Mainly do the practice tests. You should take the test in the exact same time frame that you will sit for the actual test. You can do 50 or 100 questions if you are not familiar with the test and then increase to 180 questions of the full test. Aside from the requirement of mental ability due to the difficulty of the test, it's really about physical strength as it takes us up to 4 hours to finish all the exam questions. In the very first attempts to do the exam, you may be pretty shocked with the exam time allotment!
- Goals of taking the practice test: I recommend that you should do at least 1000+ questions, and don't try to memorize the questions, take 4 hours for 4 hours to analyze difficult questions or the questions that you answer incorrectly to fill in the knowledge gaps. Rest assured that you won't get the exact same questions during the actual test, but the samey-samey questions could probably be met without expectation.
- 1 week before the test date: say "no" to the practice. Just take time to review all the things you have noted. They are all the effort that you have made for months; if you do not revise, it will be a waste. Do not let that information become a loss of "lock, stock, and barrel"!
- 2-3 days before the exam: Take a break, go through a few flashcards, practice your own knowledge system (draw ITTO ...)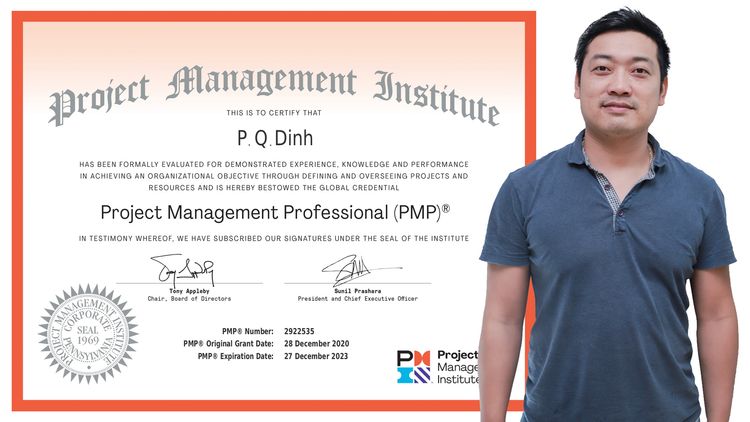 Conquering the PMP is not easy and the way to reach the top of glory is also very difficult and challenging. Admittedly, PMP is a difficult certificate and requires an investment of time, knowledge and even money to obtain.
Therefore, as the first member of Sun* to obtain PMP certificate, Mr. Dinh plans to gather all Sunners with the wish to review exams and are determined to achieve PMP certification into a group and will act as an Adviser, who will together with everyone to conquer this challenge to bring more PMP certifications to Sun* in 2021 in particular, and step by step move towards professional and effective project management, bringing the project to succeed and raise the value of Sun* to the partners. So what are you waiting for? Let's contact your Group Leader or Sun*'s internal training department!
Good luck!