NEW: Sunners are switching workspace platform to become closer during the pandemic
Long work-from-home period makes you depressed, miss your friends, your colleagues and the company? Online meeting applications such as Zoom, Google Meets or Teams have not satisfied your need to meet and interact with people? Then try the Gather application right now. It's the combination of a "raging" 2D role-playing game and is applied by the Sunners at the Da Nang Office on all "fronts"!
During the remote-working period, everyone works in their own house, we are not allowed to meet and confide with close friends and colleagues. What's more, when there's an urgent matter at work, Sunners have to add a meeting to the schedule. If we want to discuss something, we always have to send a Google Meets link or call, or text our colleagues, which is quite time-consuming. It is this problem that makes communication with colleagues very inconvenient and above all, inauthentic and distant.
Gather functions as a shared workspace. All members of the project or the company can converse or make announcements right on this application. If anyone needs to exchange any information, they can just move closer to people and talk to them, which is very fast compared to other platforms.
Currently, Gather provides about 80 workspace templates, allowing users to choose one of which as a meeting place. In addition, the application also provides tools for users to create their own space. When joining a meeting, users can create a character representing themselves like playing a role-playing game. This makes user interaction more enjoyable.
With Gather's eye-catching, interesting interface and the unique ability to interact with virtual characters, you can easily create your own 2D characters and personalize physical features as well as clothing through your avatar.
About Gather, Sunner Xuan Dat (CEV 11) said: "First of all, we will feel like we are at the company as the 'set up' of an office feels familiar. We don't need to use Google Meeting anymore, there is no need to "TO" everyone into meetings. We can just move the character closer to the person we want to talk to, very convenient! The meeting function is also very good. It has adequate utilities such as screen sharing, not inferior to Google Meeting at all.
And the best part of Gather is how we interact with our colleagues, it's just like real life. You can discuss a hot piece of news with a group of interested colleagues quickly, you can invite the whole team to the meditation area to pray for a successful release, or you can organize a virtual birthday party."
Gather supports a lot of functions to equip us with more options when interacting with objects, contributing to creating a joyful and uplifting atmosphere for Sunners during the remote-working time. The great benefits of Gather include: Using space as a good simulation of an office, quick meeting with colleagues, increasing work spirit when users can role-play a character, entertaining and reducing stress right during working hours at space with game options, bond with colleagues through games like poker, connect with people quickly, users just need to get close to the allowed range around an object to be able to automatically connect...
With those special features, Gather gives users the feeling of working remotely but not alone because users can see the status of everyone in the team, and can know who is still in the virtual office, who has left... And moreover, Gather can help Sunners maintain Sun* cultures such as playing music, playing radio, exercising, going to Free Space, partying...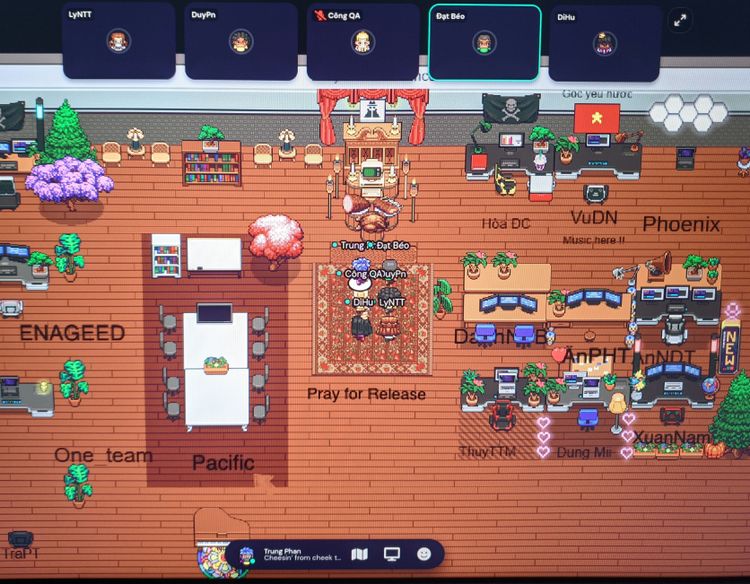 "Me and my project team joined Gather together to reduce boredom on the days when we can't go to the office. My project team will have daily meetings right in the game. We will talk to each other and share screens with quite good quality. In the working process, we can talk to each other like we were in the office. The interesting point here is that the simulation game is quite similar to real life. After hours, members can also "kill" each other a few times over poker games, have small chats and birthday parties. The space is customizable so we've built quite a beautiful space." - Sunner Xuan Loc (CEV 11) shared.
Since they started using Gather for meetings, the R*NG project team has been working in an atmosphere filled with joy: "My project team had a birthday party in this virtual office! Everyone decorated the space quite spectacularly. We stimulated the food and "ate" enthusiastically. We even danced to the music together! In addition, the team also decorated a corner to be an area for worshiping the "industry god". Every time we release or deploy, everyone goes there and prays together. The project brothers and sisters worked very hard to interact with each other. At fixed time frames, relaxing music would be played. In the morning, we would call each other to a certain desk to have our daily meetings. In the afternoon, we would gather at the Free Space to exercise... In general, it's no different from real life!"
"Not only for work, me and my team also use Gather as a place to organize fun activities such as exercising, playing games, celebrating birthdays... In this application, you can order water, ice cream, then sit at the party table and listen to music together. Gather's interface is cute so the working atmosphere has changed a lot and team members feel less stress." - The S*Check project team members are quite satisfied with the features of Gather.
Hoang Trung (CEV 11) emphasized: "In general, it would be a lot to list the benefits of Gather, so I recommend everyone to try it to have first-hand experience!"
However, Gather also has a limitation which is that the current free version is suitable for small project teams of less than 25 people, if the number of team members exceeds 25, Gather can be laggy. So teams should take this into account before using! In addition, Gather is only available on web and PC platforms.
Sunners can try GATHER
HERE
Staying at home because of the pandemic is something no one wants. We believe that everyone hopes to soon be able to return to our normal life, to go to work, go out, organize parties or enjoy many other pleasures. In order to make this period less monotonous and boring, Sunners can use the Gather virtual workspace which is guaranteed to win the hearts of the whole team right from the first use. Always be optimistic, Sunners!