Sales Rush Board and the journey to conquer the hearts of customers
As a project focused on synthesizing and processing data, the Sales Rush Board (also known as Srush, from CEV09) possesses the latest technologies to build a complete data operation system (ETL) such as Airbyte (Load data), Snowflake (Data Warehouse), or AWS Quicksight (Business Intelligence)... Just over a year after launching, the Srush project has reaped worthy fruits, especially the trust and confidence of clients.
The product of the Srush project is a BtoB SaaS, aimed at businesses that are implementing digital transformation, and have large data sources, but are fragmented or scattered, making it difficult to make clear Business Decisions if like lack a Data Engineer team to handle that raw data. And Srush was born to solve this problem!
Today, let's learn more about the Sales Rush Board project and look back at the journey of more than a year of effort to receive positive reviews from clients!
Absolute efforts to affirm our value to Clients
Srush provides solutions to synthesize multi-source raw data and can process, synthesize, analyze insights, and graph to help provide businesses with accurate views from their own data.
Although the team project has only about 5 members and has gone through many changes, Srush currently includes 4 development members, but all of them have certain abilities to work well with "huge" data sources, and truly fully commit to the project.
During the project implementation, team members faced many stressful challenges, especially when the project did not have a QA team to support. Members are always in a state of having to be proactive in writing Viewpoint Tests first and Unit Tests after completing a certain feature. Not stopping here, Srush works with a very specific Python framework called Anvil and holds a huge amount of documentation, both system features and documents on related technologies applied.
According to Mr. Thanh Nam - Project representative: "During the initial time when the team was first established, in addition to the above challenges, the team also faced training the mindset and cohesion of the members. Because each of us has a different personality and perspective, many times there are disagreements in meetings. So, the first thing I do is share about the Client's goals and hopes that the Sun* team will bring them to the Client so that we can all look in the same direction. There may be many solutions, but how can we achieve them? Satisfying clients' wishes is always a priority!"
Although the project team size is small, the amount of knowledge and system design is not. The system is intended to accommodate the processing of Big Data by many users at the same time, so it requires each member of the project to have a spirit of continuously learning knowledge and being proactive in learning about it. Be curious every time you encounter new challenges and challenges during your work process. Nhat Quang - BrSE of Srush added: "Clients themselves, in addition to Sun*, also hire other third parties to develop independent features. Therefore, if we do not have a proactive spirit when working in a cross-vendor format like this, the team will not be able to do well."
After all, Clients' satisfaction is the biggest "trophy"
Within just 4 months since starting the project, Srush has completed the alpha version to officially put into use on the End User side in early January 2023. Since then, Srush has continued to upgrade the system experience and at the same time share product ideas with clients.
Outstanding features of Srush released this year include:
- AI chatbot provides insight suggestions and graphs based on aggregated data sets
- Improve the loading speed of large data files by 3 times
- Expand the number of data sources that can be extracted and aggregated, focusing on Japanese market SaaS (Kintone, Yahoo, Hubspot, ...)
Recently, on the occasion of the project celebrating 1 year of working with the clients, the client's side sent project members meaningful anniversary gifts, attaching a clip to congratulate 1 year of cooperation. This is a great source of pride because it proves that the project team has been cherished by clients and seen as a partner of the product, not simply a simple outsourcing team.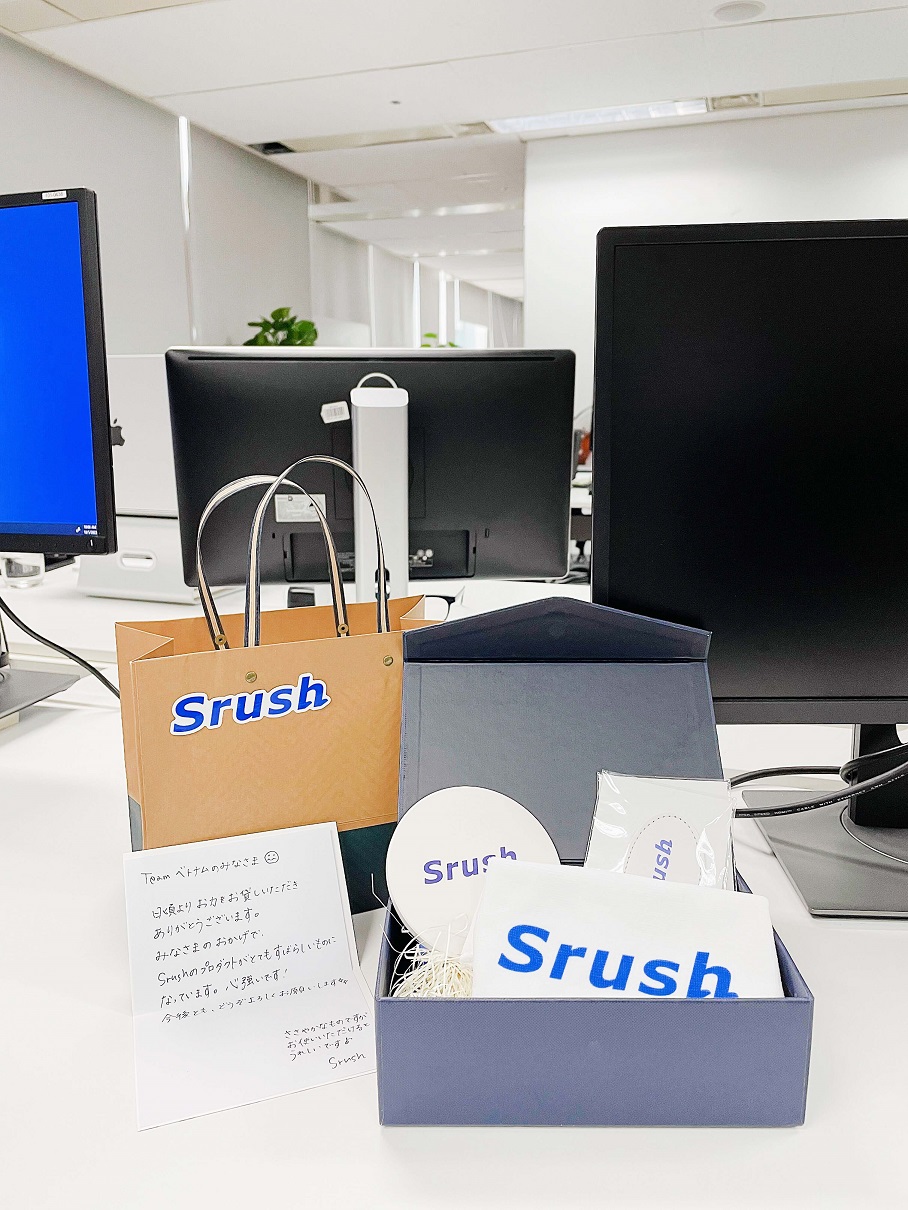 In addition to those spiritual gifts, perhaps the project team's greatest joy is being trusted by clients with a CSS score always above 90 (even up to 99.2 points). It can be said that the project team has succeeded in receiving trust from clients - this is also what any project is aiming for.
In addition to those spiritual gifts, perhaps the project team's greatest joy is being trusted by clients with a CSS score always above 90. It can be said that the project team has succeeded in receiving trust from clients - this is also what any project is aiming for.
Sharing the secret to creating this connection between the project team and clients, the team pointed out two important factors that affect the trust and confidence of clients. Specifically:
- Show them your enthusiasm for products and projects through communication, working, and responding to bugs, …
- You need to have the mindset of a Product person: each member of the project needs to clearly understand the meaning of the product and the client's pain points. From there, change your mindset from an outsourcing person to becoming a product owner. This can contribute to creating a successful product, both technically and professionally.
Determined not to "sleep" on initial success, the Srush project team has been making efforts every day to improve project quality. Talking about the team's goals in the coming time, Sunner Nhat Quang emphasized: "Certainly the team will always try to improve product performance and release new features to make user experience with the product convenient." In addition, the team hopes to successfully build a Chatbot to help users get acquainted with the system using LLM technology - this is the KEY POINT in the client's next round of venture capital funding."
Let's congratulate the Srush project team's wonderful journey of conquering the hearts of clients and look forward to the next impressive achievements from the project team!
Bài viết này không bật tính năng bình luận!