How to protect your project from outside hackers?
Imagine that one fine day, when security vulnerabilities become more and more "bigger" to a "dead" black spot that can no longer be fixed, what will happen? If you are tired of thinking about the long days fixing dozens of security vulnerabilities, the following information is for you!
Imagine a developer as a tailor and the products they create are gorgeous dresses worn by supermodels in many fancy events. Every stitch is considered as a vital line of code, forming the dresses, before they are decorated.
The contract has been signed, the product is handed over. You receive an amount of money that is enough to organize team-building events for the whole year and that supermodel has the chance to shine with her dress on the world's famous catwalk!
Think about this! What if one of the many stitches suddenly got ripped out and reveal some sensitive parts of the model's body and then, the paparazzi were like a troop of hackers who keep taking pictures out of those holes? Yikes!
Returning to the topic of product development when hackers are more and more and they always attempt to destroy different large and small technical projects, it becomes more and more urgent to limit security vulnerabilities than ever. Just like the fancy dress of a female star which suddenly has too many security holes on, it will bring unpredictable consequences!
Realizing many concerns of developers at Sun* during product development related to security issues, the SOO Unit has corporated with the team specializing in system security and ​​information security - Cyber Security Team of the R&D Unit to organize course series called SECURE CODING for all programmers in the company.
Leading this course is the captain of Cyber ​​Security Team N.A.Tien, along with another senior member of the team, NVThien. They are members with many years of experience in information security, directly work on many Sun* projects, and get many important security certificates. This couple created a new wave with lots of useful information for developers at Batch 1 of the SECURE CODING course in the last early September.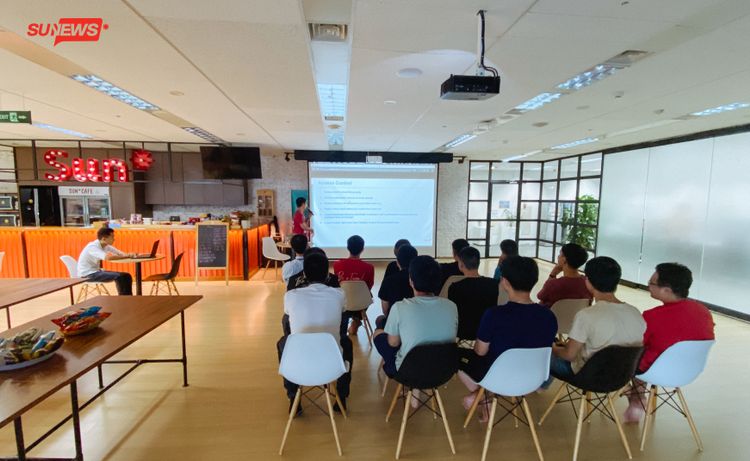 The information provided in the course is a lot, but the most important thing is that the course has helped everyone raise their awareness about information security from now on. Any project can reduce the risk of bad code and dangerous security vulnerabilities.
According to SOO, not only web developers but even iOS and Android developers are also excited to join Batch 1 of the SECURE CODING course because security is a broad issue, not just in a certain language!
Sharing with Sun* News after 3 lessons, T.T.Hang (EUV3) said: "Before taking Secure Coding, I only knew there was an SQL injection attack that I learned at school. However, after the sharing of Mr. Tien and Mr. Thien, I know that there are n+1 different attack types. Each lesson, we learn more about ways to secure our code with each different attack type to reduce the most attackers who can take advantage of these vulnerabilities to attack our project"
With a moderate amount of knowledge that is enough to convey and receive in a short time for developers who do not specialize in the security field, the trainer duo N.A.Tien- N.V.Thien has incorporated many practical examples to ensure the knowledge they give is always as easy to understand as possible.
For that reason, DQMinh shared: "The content of the secure coding course has a basic amount of knowledge that is suitable for developers, the course provides an overview of web security and issues that developers often encounter or lack of awareness in the product development process.
The contents of the lesson have specific examples and demos from projects in the company, it helps me identify how easy can web security issues occur if I don't really pay attention, or have a basic understanding of security.
Furthermore, the course also helped me increase my awareness of security in product development. Sure, it's impossible to eliminate 100% of the risks, but you will pay more attention during development to make the product harder to be attacked."
SECURE CODING course takes place in 3 days with 2 hours per session. It is enough for knowledge to be spread evenly, without heavy, confusing feelings for learners. Although, security, as well as information safety, are always the top serious problems in the information technology industry and their knowledge, accordingly, are always updated, supplemented and expanded more and more.
Do vậy, nếu bạn quan tâm tới vấn đề mà "ai cũng quan tâm" kia, hãy tham gia Batch 2 - khóa học SECURE CODING để cùng bộ đôi lão làng N.A.Tiến - N.V. Thiện bóc tách những vấn đề về bảo mật thông tin nhé!
DETAILED INFORMATION ABOUT BATCH 2 - SECURE CODING COURSE
Time: 15:00 - 17:00 on October 26, October 28 and October 30 (2 hours/session)
Trainers from Cyber Security Team (R&D Unit): N.A.Tiến together with N.V.Thiện
Location: Freespace, 13F Fizz, Keangnam Landmark
Participants: Web Developers
>>> Sunners can easily sign up HERE