Interesting surprises through Team Building activities, taking care of Sunners' mental health during the pandemic
The COVID-19 pandemic and adaptation like WFH are contributing significantly to the mental health of many people. Our Sunners have been "responding" to the pandemic in creative and interesting ways.
Mental health is an extremely important factor in a person's healthy emotional life. It is the happiness from within, a sense of certainty about oneself and the ability to control oneself. Maintaining a stable and healthy mental health is a key factor when it comes to improving the quality of everyday life. However, the COVID-19 pandemic has changed many things in our daily life, including the stable state of our mental health.
We always need time to adapt to changes in our life and to face worries around us, but the rapid outbreak of the COVID-19 pandemic did not allow us to adapt in time. Therefore, we have to get used to a series of unfamiliar working and living methods as quickly as possible such as social distancing, remote working, etc. These rapid changes combined with the pressure of the pandemic, family, and children make stress an "uninvited guest" in many people's minds.
Understanding the importance of mental health, at the end of August, the Company had sent a small gift to all employees so that everyone could organize "At-home Team Building" activities to connect with each other and improve mental health.
In this article, let's see how the Sun* family members have used the Company's gift to take care of their spirit.
Responding to the company's care, CEV14 was one of the first units to organize a team building activity with the "online drinking session". In the epicentre of Ho Chi Minh City, CEV14 members are still very active and excited in the online drinking session, the stories while drinking have partly relieved the constant stress during this period.
Talking to SHC, Dai Guong, a member of CEV14, shared: "The pandemic suddenly broke out in Ho Chi Minh City, causing everyone to stay at home for months. I too only communicated via the Internet, not meeting anyone, not to mention the surrounding area kept having new F0 cases, I was very worried. Fortunately, thanks to the online drinking session, I was able to "meet" a lot of people. Even though it was only via webcam, I was still very happy because I could see so many familiar faces. After that session, I felt more energized, no longer feeling lost and lonely."
CEV09, with their endless passion for eating, had a similarly genius idea to CEV14's. The team building activity of CEV09's choice is also drinking online. Although it's online drinking, the members of CEV09 prepared very well for the party with drinks and snacks, and they even had an exhilarating toast.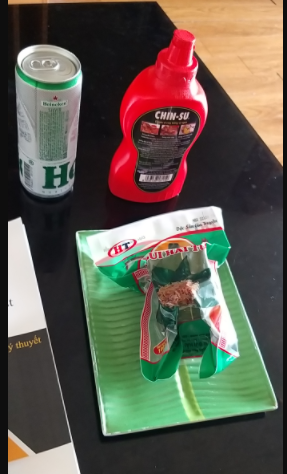 "At first when I came up with the idea of ​​drinking online, I wasn't sure if the members would participate or not, and I was very surprised that on the day of the event, everyone prepared a lot of snacks and drinks such as fruit, spring rolls, beer, soft drinks... Although it's a shame that we couldn't have a face-to-face toast with everyone in Unit, the drinking session was still very fun and interesting. Everyone was eating and drinking, talking very happily, even chanting "1, 2, 3 zô" as if we were drinking at the bar. It was the lively atmosphere and positive energy in the drinking session that helped dispel the stress and sadness that everyone had experienced during this time." - Ms. Ha - The organizer of the "online drinking" session shared.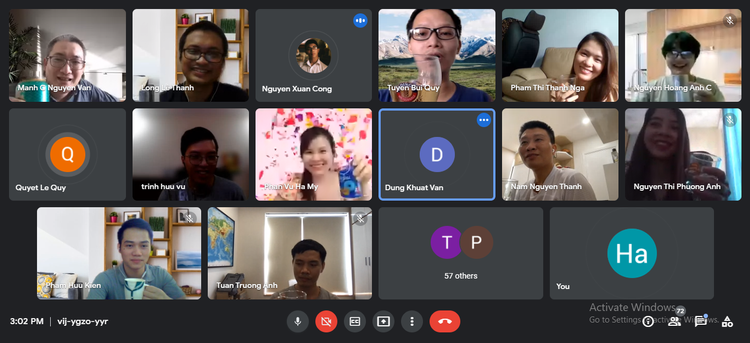 Workout together to improve health
Unlike CEV14 and CEV09, PAO chose to use the Company's gift in a very special way. True to the "small but mighty" spirit of the unit, instead of eating, PAO members used the team building budget to buy tools and workout together, promising to come back as top visuals with "light skin, pretty figure", confidence and positivity.
Nhat Le, a member of PAO, shared with SHC: "Our team is small, so it's difficult for our team building activities to be as "loud" as other Units, so when we received the company's team building budget, the sisters invited each other to join a training group on Facebook, then use that money to buy a combo of resistance bands and granola to support the training process. Currently, we are still constantly trying to workout, because exercise not only brings good health but also brings a lot of positive energy since during the practice, the sisters often connect to encourage and cheer each other on."
Organize interesting programs
Out of sight but not out of mind, on September 19, BAV had a very fun and cozy team building session with the theme of Mid-Autumn Festival. After more than 4 months of working from home, many stories were shared to help bring people together, remove distance and loneliness. Quynh Nga of the GA units excitedly said: "I spent 2 hours trying to figure it out how to make grilled shrimp for this team building, although it was just an online party, but I was very happy and excited for it'd been a long time since I could have a gathering with so many BAV brothers and sisters, this is really a very meaningful activity."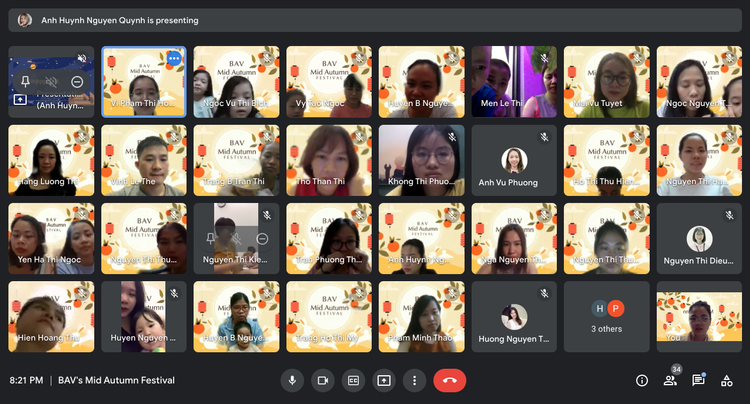 Although the gift received from the Company was only a small amount of money, with flexibility, creativity and positive spirit, Sunners in all departments had very fun and exciting activities, eradicating the sorrow during this pandemic.
SHC will continue to update mental health activities at Sun* in the next articles.