Tan Thanh - A "ton" of sincerity
As one of the young Team leaders at Sun*, who just won the ACE award of Ho Chi Minh branch in 2020, enthusiastic, dedicated at work, warm, gentle with everyone around are the words best describing this guy. Tan Thanh is also known with the cute name "Doremon Thanh".
Tan Thanh is a member of EUV3, currently working at Ho Chi Minh branch. Thanh has been working in the company for nearly 4 years, since the day he was a trainee in the Education Unit.
When he was still in school, Thanh did not have many work orientations, he only knew that he was quite good at computing, plus his hobby of playing games, so he decided to follow IT, even though his family wanted him to be a teacher. Thanh's predestined relationship with Sun* was also accidental. At that time, Thanh did not think much but the thought of not failing the one who introduced him to the company. So he decided to join Sun* and has been sticking around until now.
"I find myself quite blessed to be taught and guided enthusiastically by my colleagues in the company, sometimes I "ask stupid questions" but they still patiently explain them to me, indeed, thanks to which I can grow up like today" - Thanh shared.
Be sincere in what I do
Currently, Thanh has been a team leader, a key member of many projects at Sun*.
"Enthusiastic and responsible" is Thanh's brand name in any project. Mr. Nguyen Van Vuong had the opportunity to do the same project with Thanh and was very impressed with what he showed: "Enthusiasm, responsibility, diligence and not afraid of hardship. At a very young age, his mindset was very outstanding as well as his technical skill was high as compared to others in the Unit. In addition, Thanh is also very active at work, with a gentle personality."
Thanh is always ready to roll out whenever the project needs. During the stressful judgment days, Thanh was always late at the company, researching, coding, reviewing, and taking the project through a difficult period for a successful release. Members working in the same project with Thanh shared: "Thanh is very thoughtful for everyone, always tries to complete the task early so as not to affect the other colleagues, nor affect the deadline. Before receiving the task, Thanh always thoroughly researched and applied his knowledge to make his job more optimal. Thanh's impression is that he has never refused any difficult task, and always ready to do and the result is "delicious"."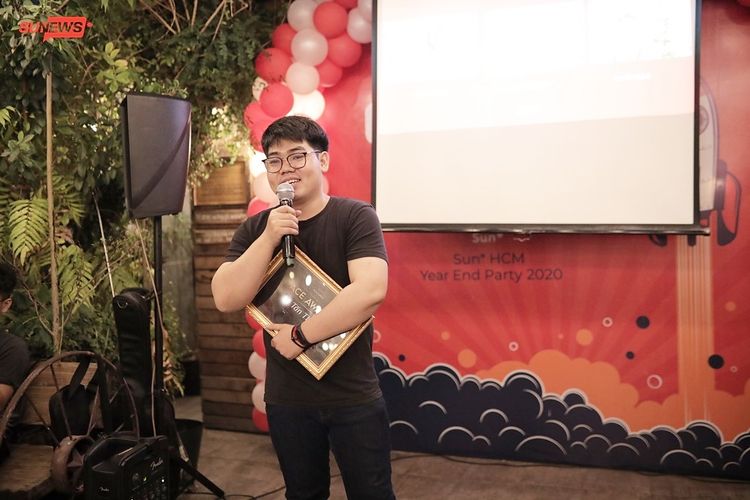 Thanh's attitude to work is very clear: "Investing in knowledge and the work I love is the best investment, so I just try my best and do my best." From that point of view, Thanh always works hard, dedicates himself ceaselessly and receives worthy results. The ACE award at Ho Chi Minh branch last year awarded to Thanh is the clearest testament to Thanh's professionalism and talent.
Be sincere to everyone I meet
In addition to his work, Thanh is also a diligent team leader who enthusiastically supports everyone. When assigning members always communicate clearly and together with everyone to give the best handling direction.
Thai Quoc Vuong, one of the members of Thanh's team proudly talked bout his team lead: "Anh Thanh is a meticulous person at work. When working with him, I have learned how to control any possible cases when coding. However, his talent does not make other members feel pressured. On the contrary, working with Mr. Thanh is also very comfortable because of his orientation, specific instruction and willingness to help others at any time."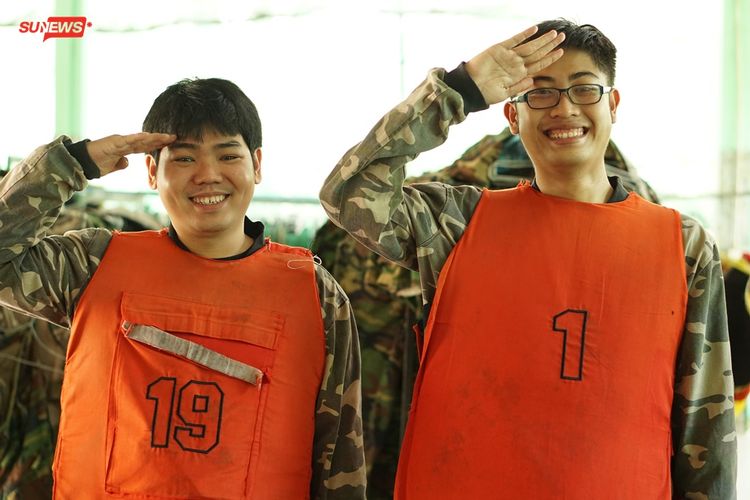 Besides, Thanh also pays attention to and cares about his members from the smallest things, warming the heart of us. "When we were working on Trill project, the members outside of Hanoi sent gifts to the team in Ho Chi Minh. Everybody in Ho Chi Minh Branch excitedly shared the food without me since I "in late" that afternoon. When arriving at the company with the thought that there was nothing left for me, but Mr. Thanh surprised me by hiding some for me under the table" - Vuong excitedly recalled.
The brothers and sisters in the branch called Thanh "Doreamon Thanh" not only because of his gentleness and lovely appearance but also his kindness to everyone, everywhere.
Thanh shared "The environment, friends and colleagues in my company are a great motivation for me to keep on trying and stick with the company. Every day, I go to work in a comfortable spirit, the company atmosphere is always happy, everyone is also very caring and willing to support others. We are close as if we were family members. Afterwork, I am quite a quiet person. In my free time, I often ride around Saigon by myself or go to book cafe, sometimes on weekends go to listen to acoustic music to chill. "
At work, he is meticulous, careful, but in his personal life, he is very simple and gentle. Those who have worked and interacted with him all have a good impression and affection for him
That's it! Those who have worked with or made friends with Thanh will surely receive a "ton of sincerity".
We wish Thanh a lot of success in his work and the journey ahead a lot of excitement and joy!
Corner of Sun * - We talk about ourselves
If you have read the articles of Humans of Hanoi, Humans of Saigon, you will probably appreciate the simple storytelling style, the simple writing style and the good values behind those stories. Inspired by those stories, subsection Corner of Sun* (under the category Sun* Face) was created to explore, share and preserve small yet inspirational stories in Sunners' daily life and work, to make each of us love one another more and be proud of ourselves as a piece in a wonderful community.
Submit the story you like (it could be a saying, an action or a moment that you feel emotional) with photos (if any) and send it HERE.
Or more simply, you can contact the "smiling girl" of Sun* News (Bui Dieu Linh: bui.dieu.linh@sun-asterisk.com) to share and spread your story! ^^