Thanh Long: At the age of 30, I return to zero, but not the starting point
For many people, 10 years working for a company make it not easy to change. People are afraid of losing, of failure, of new things that are not as good as the present. But Mr. Long does not want to wake up every day in such fear!
Before working at Sun*, Thanh Long (currently holding the position of PM, belong to Group 2/ Section 2/EUV1) used to spend his youth and dedication to another IT company for 10 years. For many people, a decade is a period of time long enough for us to be satisfied with what we have done and no change is needed. There are also people who will feel "shy" or "afraid" when having to leave a place that is already very familiar to them. Such feelings also occurred to Mr. Long.
However, the desire to do "something", create new changes in his career has always motivated him.
"When I go to work, I need more things in my working environment than a salary. First of all, you need to have a good spirit to be motivated to wake up and go to the company every day. Next, you need to know if you can create value for the company with your own capabilities and abilities? Another important thing is that can you develop yourself as you wish if you work there? ... And when I feel my immobility is getting too big and I can handle everyday things easily yet over and over again, I know it's time I really need to change!".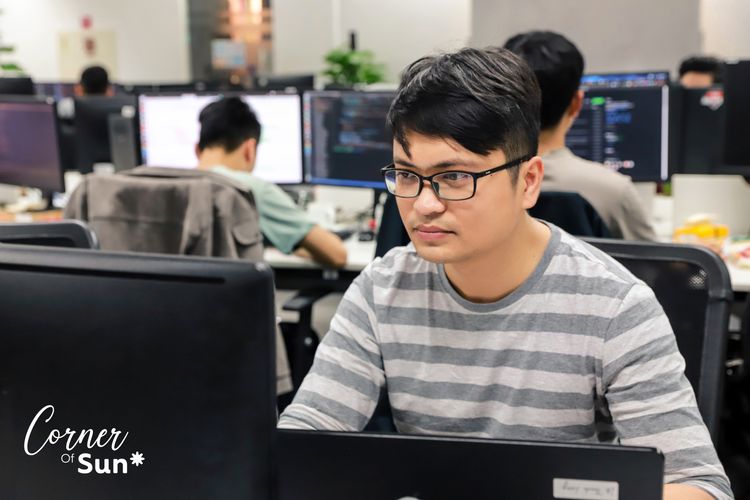 When we no longer "go fast", the organization also go slowly. Therefore, I need to change for the better!
To Mr. Long, coming to Sun * is like his decision to "leave his youth" behind. But, it is a worthy renunciation!
"I am very impressed with the people-centered management mindset, creating equal development opportunities for everyone here. At Sun*, I get the opportunity to learn. That's why I decided to stick with Sun *, so that I can develop more." - Mr. Long shared.
There are a lot of people who are afraid of change in general because they have not foreseen its results. But according to Mr. Long's experience, if we keep thinking about the risks, consequences, ... in the future, we will never be able to step out of our "comfort zone".
"I have prepared in advance for many years, by learning more, reading new knowledge. But even with the preparation in advance, everything will be new and surprise us quite a lot on the first days. Besides already-familiar project management knowledge, the new process, specific to the field of Sun* is very new, requires me to get used to them again quite much.
However, the latter will still be better than the former if I am determined to make a change for the better. And if that change helps me to develop and create new value for the organization, why not giving it a try".
Just do it, then you will succeed.
Just go, then there will be a road.

You may stumble, but then you will know how to walk, making more steady movements!
Flexible in self-renewal, dare to face challenges and aspire to create good values, not only for individuals but also for the organization and the community, Mr. Thanh Long is the representative of the personality of Sun people*.
We wish Mr. Long a prosperous and successful career at Sun*. And we hope that the road ahead will be full of excitement and joy every day.
Corner of Sun * - We talk about ourselves
If you have read the articles of Humans of Hanoi, Humans of Saigon, you will probably appreciate the simple storytelling style, the simple writing style and the good values behind those stories. Inspired by those stories, subsection Corner of Sun* (under the category Sun* Face) was created to explore, share and preserve small yet inspirational stories in Sunners' daily life and work, to make each of us love one another more and be proud of ourselves as a piece in a wonderful community.
Submit the story you like (it could be a saying, an action or a moment that you feel emotional) with photos (if any) and send it HERE.
Or more simply, you can contact the "smiling girl" of Sun* News (Bui Dieu Linh: bui.dieu.linh@sun-asterisk.com) to share and spread your story! ^^