The secret to "great triumph" in the most exciting AWS certification race ever at Sun*
Understand AWS thoroughly as well as build a study plan for yourself, carefully review, and believe that you will surely conquer AWS easily!
Based on the recent hot topic in the IT world - AWS certification, EUV2 has held an internal seminar once again sharing about AWS certification and how to effectively study and practice. With the title "Is the AWS certificate easy to digest?", The seminar is led by Sunner Dinh Hieu - one of Sun's AWS Associate Certified Developers. Here, Hieu shared a lot about the AWS certificate as well as how Hieu studied and practiced for this certificate.
To once again understand more about AWS, let Sun * News follow the article below!
First, what do you know about Cloud in general and AWS in particular?
Amazon Web Services (AWS) is the most widely used and comprehensive cloud platform, providing over 175 full-featured services from data centers around the world. Millions of customers, including the fastest-growing startups, largest corporations, and top government agencies all rely on AWS to reduce costs, become more flexible, and innovate faster.
Cloud (Cloud Computing) is the delivery of IT resources on-demand over the Internet with a pay-per-use policy. Instead of buying, owning and maintaining physical servers and data centers, we can access technology services, such as computing power, storage and databases, when needed, from cloud service providers like Amazon Web Services (AWS).
The application of cloud computing brings a lot of benefits: Fast, flexible, economical in detail, quickly deployed. Therefore, we should have the knowledge and apply it to software development, saving development time and cost as much as possible.
Let's learn about AWS certification!
AWS Certification is a set of certifications issued by Amazon that assess the level of Cloud understanding, specifically Amazon Web Services (AWS) services, and the effective application of those services in practical problems. AWS Certificate includes 4 levels: Foundational, Associate, Professional, Specialty.
Foundational: For every job position, those who want to start learning AWS, who want to understand AWS service
Associate: For people with knowledge of AWS, having above 6 months of working experience with AWS
Professional: For people with more than 2 years of experience working with AWS
Specialty: For a specific field (Network or Machine Learning or Database, ...) has worked with AWS for 2-5 years.
Languages: English, Japanese, Korean, Chinese ... and no Vietnamese. Candidates who are not native English speakers are entitled to an additional 30 minutes of time allotment.
Price: 100 $ - 300 $ depending on the level.
Currently, AWS offers 11 professional certifications in Cloud in general by levels including:
- 1 Foundational certification called AWS Certified Cloud Practitioner
- 3 Associate Certifications: AWS Certified Solutions Architect, AWS Certified Developer and AWS Certified SysOps Administrator
- 2 Professional certifications: AWS Certified Solutions Architect and AWS Certified DevOps Engineer
- 5 Specialty certifications: AWS Certified Big Data, AWS Certified Advanced Networking, AWS Certified Security, AWS Certified Alexa Skill Builder and AWS Certified Machine Learning (ML).
To learn more about the 4-level certifications, Sunners can refer to Hieu's Viblo article here!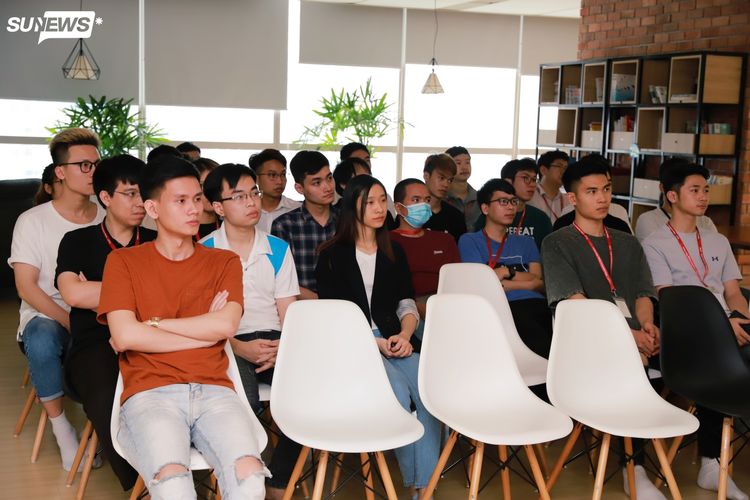 How is an AWS Certification Required for a Developer?
AWS Certifications seriously and thoroughly assess a programmer's professional knowledge and practical skills; and provides the foundation needed to work with AWS services and solutions. Therefore, if Sunners owns an AWS certification, they are endorsed by one of the most reputable organizations in Cloud.
Sharing with Sun* News after the seminar about AWS, Hieu said: "If at Sun* in the present time, AWS certification may not be really necessary right away, but I still encourage everyone to obtain it by studying. and the AWS exam can help us improve our knowledge of AWS as well as general knowledge of systems (AWS provides services based on common technical problems that need to be addressed).
In addition, Dev can deploy the basic application on its own. At Sun* there are currently many projects using AWS. After completing their studies, everyone can join and support their team, making optimal management plans when using AWS."
Moreover, for a programmer, owning an AWS certification in his CV brings a lot of plus points in the eyes of employers. Notably, at Sun*, people will receive a refund when they pass the AWS certification.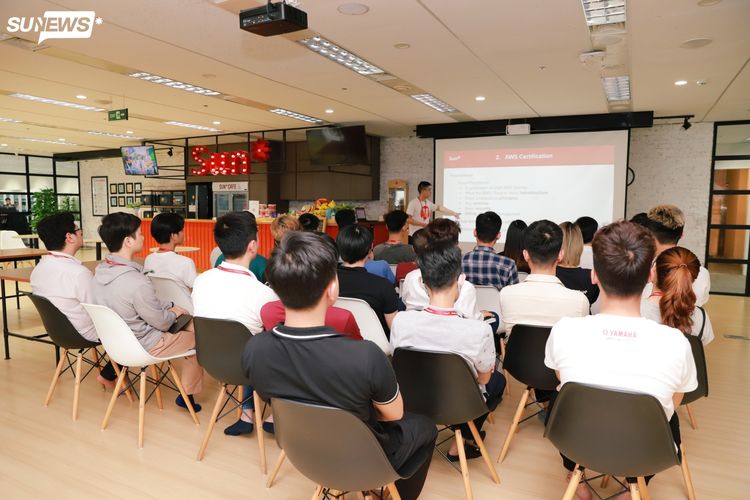 How to conquer AWS?
As a developer who has conquered 3 certificates under the Associate level of AWS, Hieu said, knowledge about AWS is very wide and spread over many fields. To be able to take the exam we must understand almost all (which sometimes we might not encounter in real life). And especially, English is a compulsory language in the exam because we will have to study and do the test entirely in English.
The two courses mentioned in the seminar include the Udemy course of Stephane Marrek and the Udemy course of Neal Davis.
In addition, Sunners can access some other AWS courses from LinuxAcademy, CloudGuru, Syllabus + Lab or refer to some sources such as:
Because the courses mentioned above have specific times and clear lessons, Sunners can fully apply quarterly OKRs to implement learning and practice. According to Hieu, for example, breaking down the learning process enables us to know how long we have to study (1-2 hours per day for example). In particular, everyone should watch the lecture while doing the practice in order to have a firm grasp of the knowledge. During the course of study, Sunners can find more material on sample exam types to practice exam questions, avoiding feeling confused before entering the real exam.
In addition, Sunners can also contact, exchange and learn more from colleagues who have successfully conquered the AWS certificate to gain experience and specific tips to avoid mistakes in the real exam.
Conquering AWS certification is not difficult if we take the time to review intelligently and effectively. Hopefully, Sunners will find a specific direction in their journey of practicing for AWS. Good luck!