Duc Cong - an unprecedentedly positive BrSe at Sun*
Amid a "forest" of busy BrSEs (Bridge System Engineer) at Sun*, Duc Cong (EUV4) stands out with blond hair, an always-smiling-brightly mouth, and the biggest strength is talking a lot - talking loudly - talking clearly and his kindness… Anyone who works with Cong can feel the positive energy radiating from this guy. Let's explore this one-of-a-kind figure at Sun*!
After more than 4 years living and working in Japan - which Cong often jokes "everything is interesting!" there. For example, "a 70-year-old Japanese girl" will get angry if you call by "Madam" or when you go to the convenience store, the girls will pay for the boys instead of the opposite ...". After all the experience, he and his best friend decided to "take each other's hand" to back to Vietnam and join Sun*.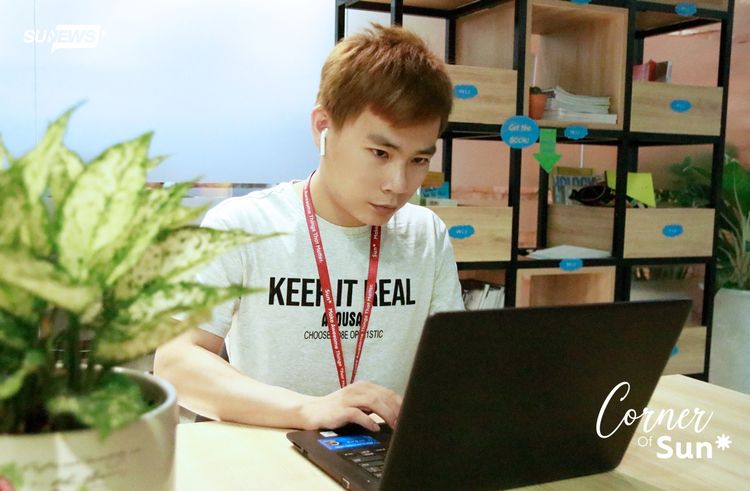 Referring to Duc Cong, Sunners in Da Nang immediately show their impression because Cong has so many special things that can hardly be seen in a BrSE - the number one busy job in the company, who suddenly appears and disappears and the voice and laughter of whom can scarcely be heard.
Although Cong is a BrSE, wherever he is, people immediately notice him. How interesting it is. If in the past, Sun* Da Nang has Xuan Dat famous for being the "speaker of the ward", now there is Duc Cong "the blonde" with a voice of such great volume that even he himself has to admit that "I don't mind being called as talkative, but I am sorry for talking too loudly! (laugh)"
In addition to his special voice, Mr. Cong also has a cheerful personality with a smile that always appears on his lips. In any circumstance, people see him being happy. He smiles when he met people, he greets everyone he meets... that's why he makes friends very quickly and impresses everyone he meets.
In addition to his loud voice and cheerful characteristics, Duc Cong is also a very serious and talented BrSE at work. Everyone must be too familiar with the image of Duc Cong wearing a backpack running into the meeting room with customers from early in the morning, discussing with customers so enthusiastically that he forgets to eat lunch and rest at noon break. In the evening, he is one of the staff that leaves office latest. His enthusiasm, hard work, and persistent effort are undeniable!
Duc Cong is also an upright person. Whoever did help him in the past (no matter how small the task was), or whenever he accidentally caused problems affecting others, he always said thank you or apologized. He is even willing to offer that person a drink to express his "sincerity". A "kind" guy like him really deserves to be a good friend, good co-worker for anyone, right Sunners?
When talking about Mr. Cong, an anonymous colleague did not regret any praise: "Cong is a man with very abundant energy and it seems that his energy source is never exhausted. Cong is also someone who can be unconditionally nice to you even if you ask him to "stop being nice to me, okay?" !!! Above all, Gong is a serious person and has a high sense of responsibility, always gearing towards creating the best value. He is truly a precious friend and colleague! "
When asked about how to be positive and happy, while being a BrSE is busy and stressful, he said: "If you have to choose between HAPPY and NOT HAPPY, what will you choose? Of course, it will be HAPPY. More than that, we must choose an optimistic life! Even if we are sad, we must continue to live, even live more positively. Whatever happens, we have to continue to live. So why don't we choose happiness to make life easier and more comfortable? "
It is the spirit of optimism and always thinking of these positive things that makes Mr. Cong become more "special" in the eyes of everyone around, spreading joy and making everyday work much less tiring.
"May tomorrow bring happiness or sadness, yet tomorrow is another day, better than today"

- Life motto of the blone BrSE Duc Cong -
Corner of Sun * - We talk about ourselves
If you have read the articles of Humans of Hanoi, Humans of Saigon, you will probably appreciate the simple storytelling style, the simple writing style and the good values behind those stories. Inspired by those stories, subsection Corner of Sun* (under the category Sun* Face) was created to explore, share and preserve small yet inspirational stories in Sunners' daily life and work, to make each of us love one another more and be proud of ourselves as a piece in a wonderful community.
Submit the story you like (it could be a saying, an action or a moment that you feel emotional) with photos (if any) and send it HERE.
Or more simply, you can contact the "smiling girl" of Sun* News (Bui Dieu Linh: bui.dieu.linh@sun-asterisk.com) to share and spread your story! ^^