Worried that the employees might get bored with working from home, the CEO has decided to surprise Sunners by little gifts
In weekly talks with managers since the company worked remotely, CEO Kobayashi Taihei always focuses everyone on how the company would help employees to be more motivated and happy even when working from home. Mr. Taihei believes that positive emotions will somehow increase everyone's strength more to overcome difficulties during the current epidemic days.
With that in mind, he has thought of the idea of giving a surprise gift to everyone. But which gift is suitable and meaningful that involves Sun*'s spirit?
Sympathizing with many businesses who are having difficulties during the epidemic season, Mr. Taihei said that it would be nice to give gifts to his employees as well as to help those businesses in times of crisis. This needs to be done as soon as possible.
After considering all the factors, he decided to choose the gift vouchers of a high-quality pizza restaurant "Pizza 4P's" with over 1,000 vouchers worth 300,000VND for Sunners.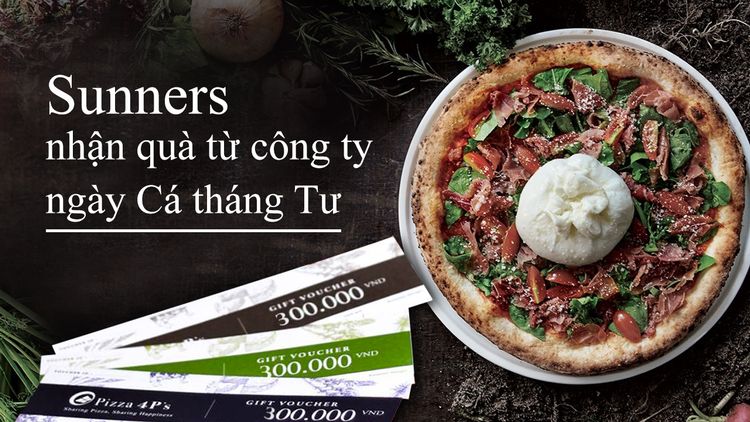 As a famous F&B startup in Vietnam of a passionate Japanese couple, Pizza 4P's always want to "Make the world smile for peace", making people enjoy the amazing WOW and full of positive energy and happiness. Pizza 4P's is a great blend of the quintessence of Japanese and Italian cuisine, with fresh and selected ingredients at Dalat farms. Those who have been here will probably know that Pizza 4P's are always full of tables, and the customers must book at least 1 day in advance to enjoy. But now with the current epidemic situation, the restaurants had to temporarily close and serve delivery.
CEO Kobayashi Taihei hopes that these small gifts can bring joy and encouragement to both Sunners and Pizza 4P's. He also hopes that the spirit of willingness to support and join hands to overcome difficulties to bring 'awesome' values will be spread in the present as well as in the future.
Voucher is available from April 6, 2020 to October 16, 2020 for Pizza 4P's delivery service.
However, website of Pizza 4P's for online order is expected to come into operation on April 15, 2020
Currently, these following branches are available for ordering via phone from April 6 due to Vietnamese goverment's regulations.
- Hanoi: Hoang Thanh & Landmark 72
- TP HCM: Most of the branches in the center are still working except for those located too far over 6km in District 9, District 12, Hooc Mon, Cu Chi, Thu Duc, Binh Chanh, Nha Be, Binh Tan.
- Da Nang: Both branches are temporarily closed The above branches will receive orders and deliver goods within a radius of 6km. If your house is farther than the branches above (more than 6km), please visit Pizza 4P's stores and buy takeaway yourself.
But due to Covid-19 pandemic, in order to ensure good health, Sun* News encourages all Sunners whose houses are too far from these branches of Pizza 4P's to wait for the next government announcement.
The information will be updated continuously by Pizza 4P's according to the regulations, so when having an order, please call the hotline 028-3622-0500
This is delivery menu: https://pizza4ps.com/html/PZ_Delivery_Menu_Digital.html?fbclid=IwAR26CiBEULNfBpreGTIxA4jBhOilbG_K0MxNW_sZcLYBn1Y5qUm2vOTNXZc